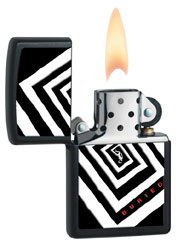 The new big-screen thriller Buried has received early buzz for star Ryan Reynolds, the only actor onscreen for virtually the entire film. But Reynolds, as a kidnapped truck driver trapped in an underground coffin, isn't the only star of the movie: the Zippo lighter he's lucky enough to have in his pocket also plays a prominent role.
"We met Ryan Reynolds at the premiere, and when we said we were from Zippo, he said, 'Oh, my costar!' " says Pat Grandy, marketing communications manager for Zippo. "The lighter is on screen for about 75% of the movie."
Zippo has worked to showcase this major role in the film by sponsoring a number of Buried events around the world. Most recently, 200 lighters were given out at the premiere in New York City, branded with the spiraling design from the film's marketing material (and one autographed by Reynolds was even added to the Zippo Museum collection).
The company has created half a dozen designs for various regions where the film is being released, as well as an edition created for the cast and crew, distributed at the wrap party last August. For Spain and Italy, the word "Buried" is written in Spanish and Italian below the film's title.
Zippo is no stranger to the big screen. Grandy estimates that the iconic lighter has appeared in some 1,200 films, and he adds with pride that a Zippo appeared in every one of the films nominated for the Best Picture Oscar in 2006. But besides the significant role the lighter plays in Buried, the fact that the film is also a great fit for the company's core customers makes the promotional tie-in a no-brainer.
"Our target audience is males 18 to 24, so it's a fairly young demo, and that group is certainly moviegoers who would go see Buried," says Grandy.
Reprinted from from the October 2010 Promotion Connection Newsletter at
http://www.KennedyAdvertising.net