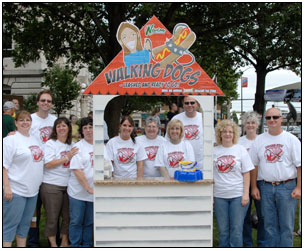 For six years, the Thanks With Franks event in Newton, IA, has provided local businesses with the opportunity to give back to the community and get their name out to locals by handing out free hot dogs. But as just one of 35 businesses participating this year, Newton Manufacturing decided to make a splash with "Walking Dogs," which incorporated promotional products and caught attendees' interest.
The Walking Dogs consisted of small Doritos bags filled with hot dog slices, chili and cheese, closed up with a branded paw-shape clip (donated by industry supplier Evans Manufacturing) and a "leash" for the Dog – a branded lanyard (donated by supplier Fields Manufacturing). Members of the Newton Mfg. team cooked the food and assembled the Walking Dogs onsite.
While the team expected the 300 Walking Dogs they had prepared to be enough to last for the full two hours of the event, the line at the Newton Mfg. booth (specially designed to resemble a doghouse straight out of a Peanuts comic) quickly grew – within a little more than 30 minutes, all the Dogs had been given away.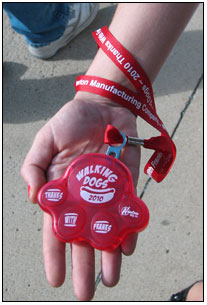 "The line went to the other side of the street – about 120 feet," says Dan Livengood, senior sales and talent acquisition manager for the western region of Newton Mfg. "It was such a hit, and what was cool was that very little money was spent – we only had a $300 budget to do this."
Besides giving a free lunch to the locals and getting their names out to the community, the 35 companies also accepted donations for local nonprofit groups, including the Newton Dog Park and Parents As Teachers.
According to Livengood, not only did Newton Mfg. raise money for the charities and awareness of its company, but, "We tied for first place for best recipe and campaign."