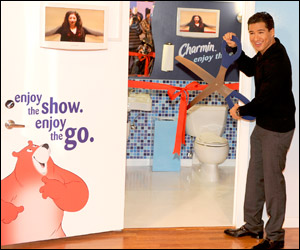 Sometimes a great event is one that shows customers how your product can solve their problems, and there are few problems as pressing as the need to find a public bathroom in a big city. That was the thinking behind Charmin's Restrooms, which the brand has been bringing to New York's Times Square for the last six weeks of the year since 2006. The company rolled out comfy, clean bathrooms similar to what individuals would have in their home, with not only sinks and toilets, but televisions and iPods.
Since the event takes place over several weeks, the people at Charmin want to be sure that there are new things happening often. In the last event held at the end of 2009, there was a cause promotion with four celebrities including Mario Lopez and Martina McBride painting special toilet seats, which customers could use by donating a dollar to the charity of that celebrity's choice.
There was a graffiti wall where users could write messages, and a "confessional" where they could record video that would be uploaded to Charmin's site. Branded boxers, T-shirts and other souvenirs were also available for those looking to take home a memory of the event.
"With any brand, especially those in a very low-involvement category, it's about showing up at the right place and making a difference, having the benefit of your product come to life," said Jacques Hagopian, brand manager for Charmin.
For last year's event, the brand also recruited five bathroom enthusiasts to act as the Charmin "Go Team." The five ambassadors greeted and entertained guests at the Charmin restrooms and around the city, while also blogging, Facebooking and tweeting about their experiences and the nuances of "going."
"The brand didn't lead us there, our consumers did," said Hagopian, who emphasized that it was consumers who had first begun putting up Youtube clips or Facebook posts about their Charmin Restroom experiences in previous years. "You gain fans and friends as a result of what you do, you don't have to actively recruit them."