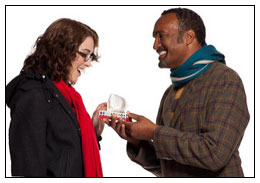 Just in time for flu season, Kleenex rolled out its "Softness Worth Sharing" promotion that invites consumers to send a free small box of the facial tissues to a friend or loved one. By entering their name, address and e-mail address on the company's website (and opting in or out of Kleenex's e-mail list), the consumer can have a colorful Kleenex box mailed out with a personal 50-character message.
The campaign aims to not only boost the number of members on Kleenex's e-mail list, but also to promote the brand – and its softness – during flu season."Time and time again we have seen that softness is the number-one thing people want in a tissue," says Ken Champa, a member of the Kleenex brand marketing team. "We know that when people experience something great – like the softness of a Kleenex-brand tissue – they're naturally inclined to share it, and we want to make that sharing fun and easy."
The program kicked off on September 26 and runs through March 31 at www.kleenex.com/softnessworthsharing. Kleenex is raising awareness of the program through national print and TV ad campaigns, online advertising, blogger relations and more than 900 in-store promotions. As of mid-November, the company had already sent a whopping 580,000 care packages throughout the country.
"We have been thrilled that so many people have not only had an opportunity to experience the superior softness of our tissues, but enjoyed sharing them with others," says Champa. "We hope to reach all of those seeking relief from their symptoms by providing an incredibly soft tissue and the warm feeling that you get from sharing something great with your friends and family."